Discussion Starter
·
#1
·
While we wait for new Nissan commercials on the 2023 Z sports car, let's take a trip down memory lane of their best ones. Feel free to include whatever latest Nissan commercial is out that you also like.
Here are my favorites.
Black Gold | Datsun 280ZX
"The 10th Anniversary Datsun 280ZX was a limited-production model stuffed with parts from a Special Edition option package. Two-tone paint, tinted T-top glass, gold or black wheels, and commemorative wreath designs with a placard stuck to the dash were added. Only 3000 of these anniversary editions were built, 500 of which were Black Red instead of Black Gold."
Turbo-Lag Dreams | Nissan 300ZX Twin Turbo
"Nissan's Turbo Dreams ad was the biggest play during Super Bowl XXIV, when the San Francisco 49ers destroyed the Denver Broncos, 55–10. The commercial was directed by Ridley Scott, director of science-fiction films such as
Alien
,
Blade Runner
, and, more recently,
The Martian
. The new 300ZX was a big deal, and it won our comparison test against the Chevrolet Corvette. This ad was later removed after critics convinced Nissan it promoted reckless driving. The jump at the end was real, but a few years ago it was discovered the car used was naturally aspirated with twin-turbo cosmetics after it was listed on eBay and later Craigslist. That's movie magic."
Sorry, Kenny | Nissan 300ZX
"This 60-second ad might look like it features a big green plastic dinosaur, Barbie, Ken, and G.I. Joe, but Nissan's lawyers promise this commercial, which aired a few months after Pixar's
Toy Story
was released, is just one enormous coincidence. Mattel, maker of Barbie, sued the automaker in 1997 for "irreparable injury to Mattel's name, business reputation, and goodwill" and later settled out of court. Nissan insisted the toys were modeled after real actors named Roxanne, Nick, and Tad. Sure. It's still an awesome commercial, and Van Halen's cover of "You Really Got Me Now" perfectly fits this fairy tale."
Some other Z commercials: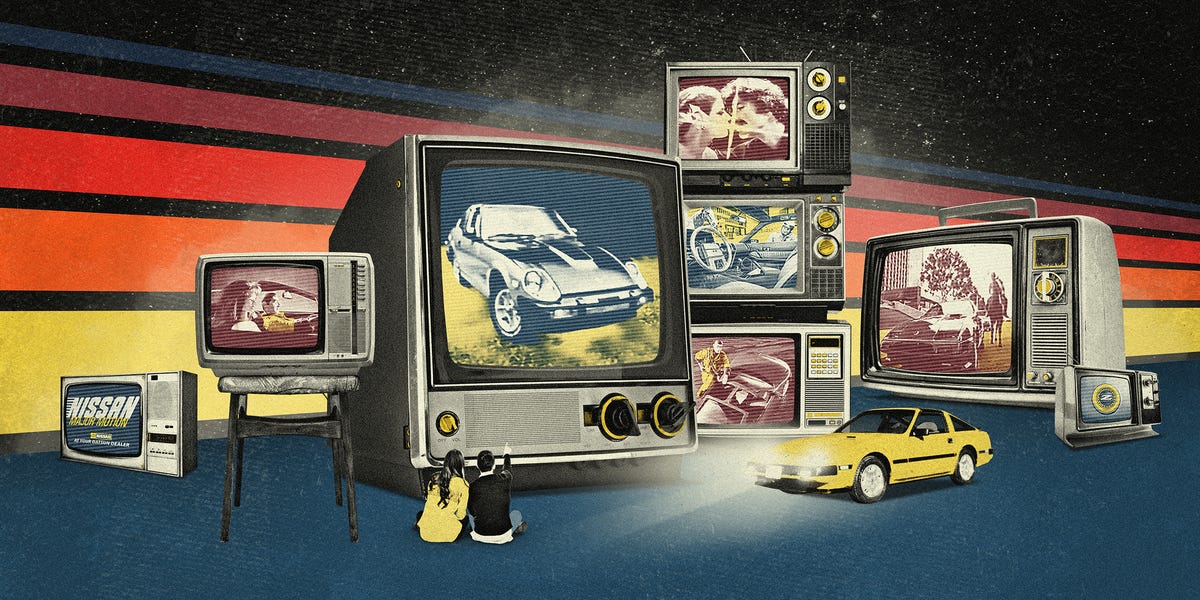 One starred Z fanboy Steve Wozniak of Apple fame; another was directed by Ridley Scott; all put our favorite Nissans front and center.
www.caranddriver.com